PRODUCT REVIEW: SAUCONY ENDORPHIN SPEED
Introducing the SAUCONY Endorphin Speed.
These kicks have been due a review for the last three months, but somehow I keep running out of time (pun intended). Also, the first time I tried them I really wasn't sure about them, so I was a bit stuck when it came to writing something nice for my amazing sponsors. Spoiler: luckily it didn't stay that way.
Here are my impressions, tests and conclusions after three months running in them!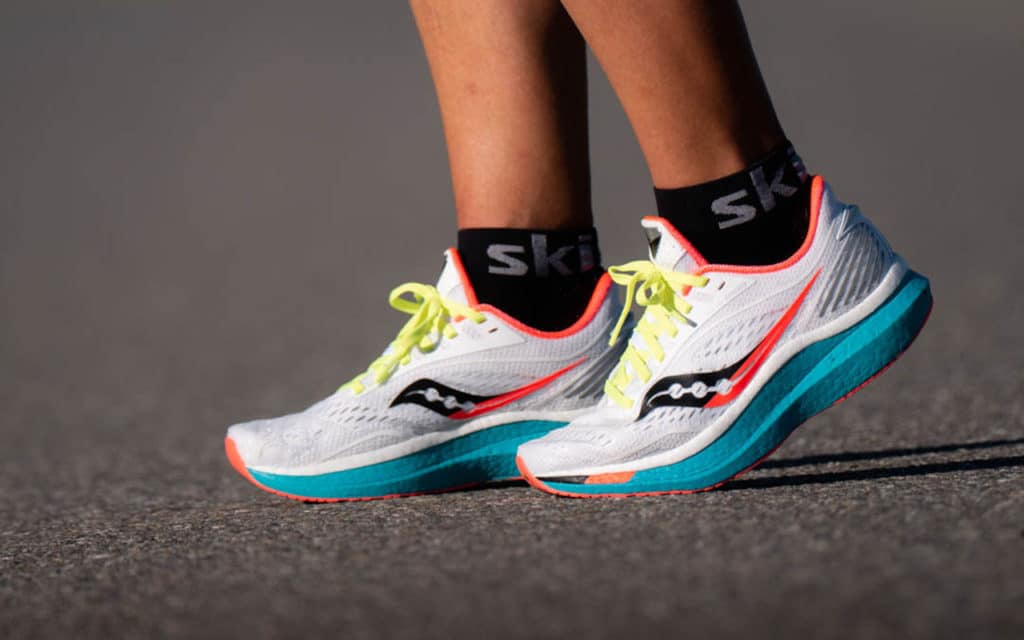 QUICK FACTS
Size: 38 EUR
Weight: 198g
Drop: 8mm
Neutral
Composite plate (not carbon!) and Saucony's PWRRUN cushioning foam in the sole
Speedroll technology to propel runner forward
The collection features three models, with the speedy carbon-plated Endorphin Pro above and the plush Endorphin Shift below.
FIRST IMPRESSIONS
The first time I saw the shoe was a bit of a wow moment. The colours are cool, it just looks fast, and when you pick it up it just about flies over your shoulder it feels so light. Basically, all you want to do it pull it on and go.
So I did. The fit was perfect, like a slipper, super comfy. And then I stood up… And just about tipped straight over onto my nose. It was the weirdest feeling.
I walked slowly around the apartment. It was as if I had some foot deformity that made me tiptoe around on the balls of my feet in a constant fight to stay upright. I caught myself in the mirror and it didn't look as bad as it felt, phew. But the pronounced rocker design means you're tipped forward onto the forefoot, which is very unsettling if you're not expecting it.
And it didn't get better on the 30-minute easy run that followed. I felt perched on an unstable platform about a mile from the ground, the sole felt squishy and I although I tried my hardest, I couldn't for the life of me feel that energy kick everyone was talking about.
I jogged back home a little dispirited. Maybe it was just my short legs?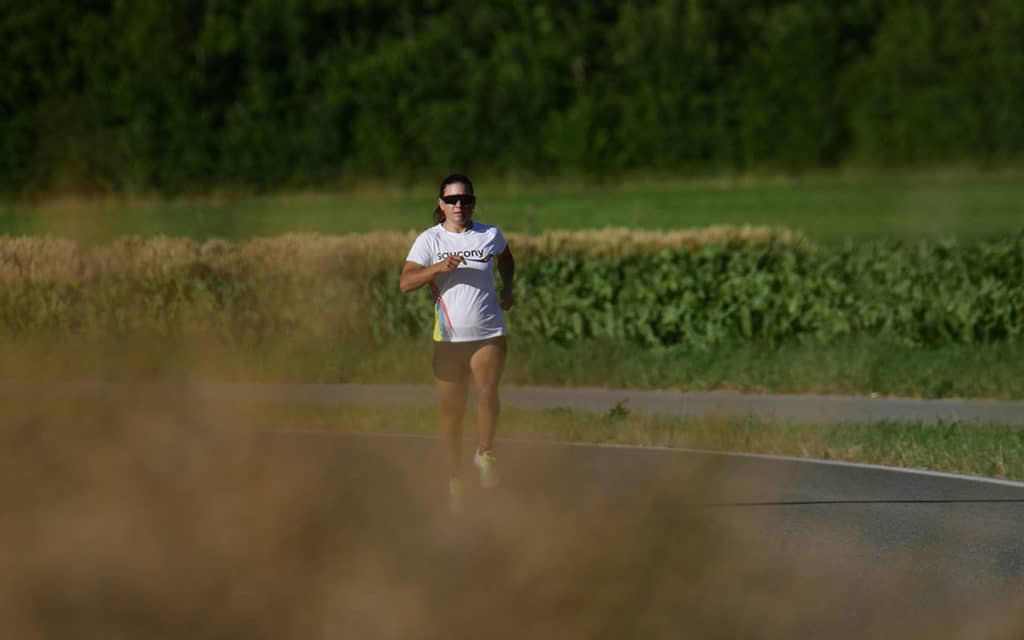 GIVING THEM A CHANCE
Or maybe I just hadn't read the writing on the box. "Speed" may have been a giveaway… The next time I took the shoes out was on a 15k run that included three 10-minute efforts. As often in my training I didn't go on pace, just heart rate and feel. So although I had no way of knowing if I was running any faster than usual, what I did feel was that the shoes came into their own as soon as I accelerated. Really lightweight, I barely felt them on my feet, and the cushioning was super soft on impact.
On the other hand, the sole is much less flexible that any shoe I've worn before: the composite plate makes them quite rigid which in turn affects the foot roll, so the stride felt a bit unnatural to begin with. I soon got used to it though.
Note: I am pretty much a mid-foot runner (although I'm sure there are some heel-strike photos out there captured at the end of an Ironman…), with quite a pronounced roll from the outside over onto the inner ball of my foot. This shoe shaped not only to rock forward, but also really accentuates that outside-inside roll, putting quite a lot of pressure through the inner knee in my case. I didn't have any issues because I'm generally pretty strong and muscular, but worth considering depending on your running gait and physique!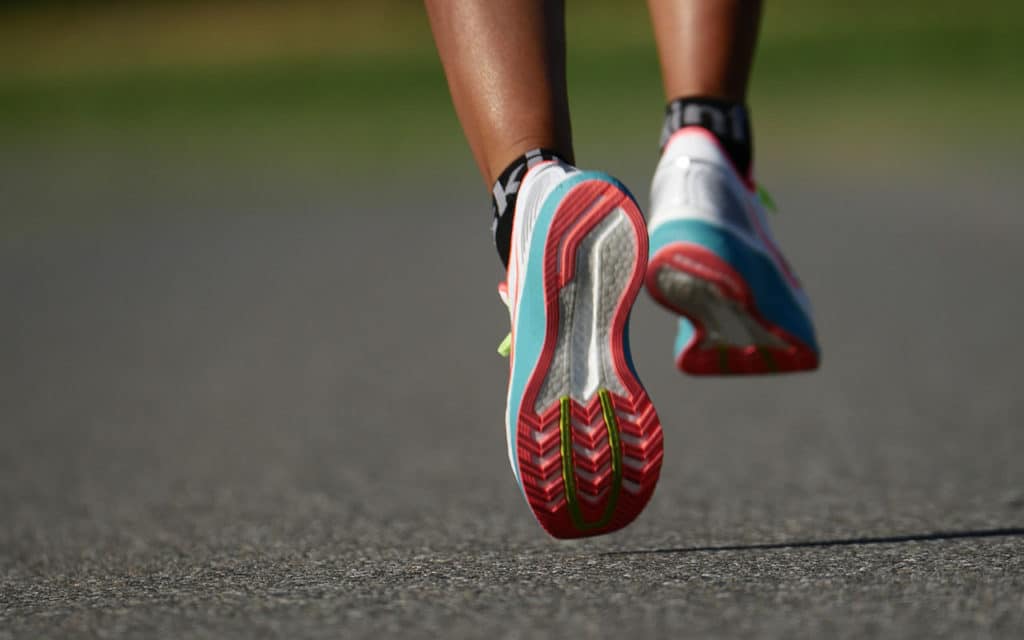 BUT ARE THEY FASTER?
For all my avoidance of numbers, I do actually own a Garmin. So I fired it up to test the Endorphin Speeds against my trusty Kinvara 11s* on two different sessions:
Endorphin vs. Kinvara
3 x 7.5km
6 x 400m
If you're not into the long analysis, jump straight to conclusions below!
*Kinvara 11 specs:
Size: 38 EUR | Weight: 200g | Drop: 4mm | Neutral, very flexible sole, general super all-rounder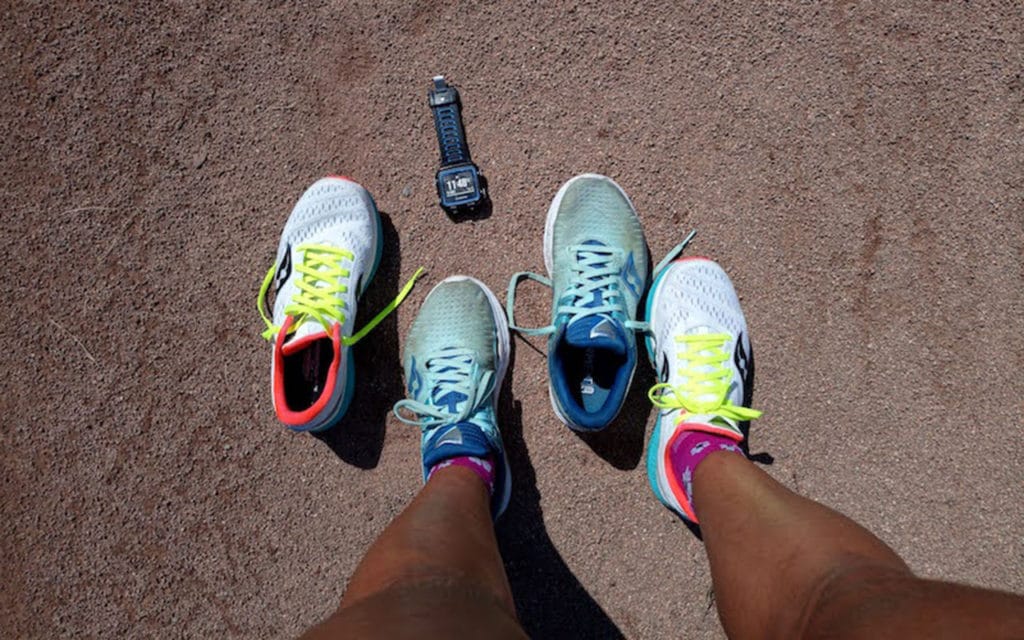 1h bike warmup followed by 3x 7.5km as
section A: 2.65km, road/trail, tailwind, controlled
section B: 2.75km, road, headwind, threshold
section C: 2.1km, trail/road, wind cover, controlled
1st loop in Kinvaras, 2nd loop in Endorphin Speeds, 3rd loop in Kinvaras
Conditions: mix of road and path, mostly flat, very hot (29C)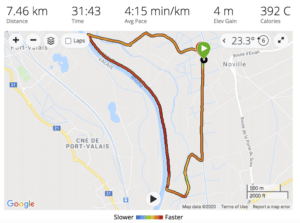 Summary of pace, HR, cadence
3x 7.5km
shoe test
Section A
Section B
Section C
Overall
pace
HR
cad.
pace
HR
cad.
pace
HR
cad.
Avg pace
Avg. HR
Loop 1
Kinvara
4'24
134
186
3'53
163
196
4'28
148
183
4'14
148
Loop 2
Endorphin
4'27
144
183
3'51
169
195
4'31
155
181
4'15
155
Loop 3
Kinvara
4'42
144
180
3'57
174
192
5'15
148
178
4'32
156
Conclusions
The heat had a very strong impact on heart rate; 29C and beating down sun meant that once it was up, it was up. Particularly noticeable on loops 2 & 3.
The Endorphin Speeds were a touch faster on the threshold effort, although heart rate – also influenced by heat and fatigue – was higher.
The main difference is feel of the shoe: the Kinvara is very grounded and flexible, while the Endorphin Speed sits higher off the floor and is very plush. You feel the bounce rather than the road.
Running dynamics are quite different. I have very short legs, which results in a high cadence and short strides, and I expected to see a difference between the shoes. Although cadence is quite proportional to pace, it is slightly lower at a higher speed with the Endorphin, a fact which is also reflected in the running dynamics. Below is a comparison of ground contact time, stride length and vertical oscillation between Loops 1 & 2.
While ground contact time is almost exactly the same, stride length is notably longer wearing the Speeds', vertical oscillation is greater (that bounce!) and any slight unbalance I have between legs is reflected in a shoe that is slightly less stable and further off the floor.
6x 400 on a 400m dirt oval track
Alternating between Kinvaras and Endorphin Speeds.
Consistent, fast but not all-out effort. Rest = 1'30 during which I sat and swopped shoes.
Summary of times over 400m
| | | |
| --- | --- | --- |
| Interval | Shoe | Time |
| 1 | Kinvara 11 | 1'22 |
| 2 | Endorphin Speed | 1'20 |
| 3 | Kinvara 11 | 1'20 |
| 4 | Endorphin Speed | 1'19"5 |
| 5 | Kinvara 11 | 1'19"5 |
| 6 | Endorphin Speed | 1'20 |
Conclusions
The main difference is again the feel of the shoe: you can almost feel the dirt under your feet in the Kinvaras all the way round, whereas the Speeds are super plush, much bouncier yet more rigid. They're really dynamic on the straights but lose stability in the bends: I felt like I was fighting to control my stride and balance rather than focusing on the effort every time I hit a curve. When it came to pure numbers, there was clearly no difference at all…
The main difference is feel of the shoe: the Kinvara is very grounded and flexible, while the Endorphin Speed sits higher off the floor and is very plush. You feel the bounce rather than the road.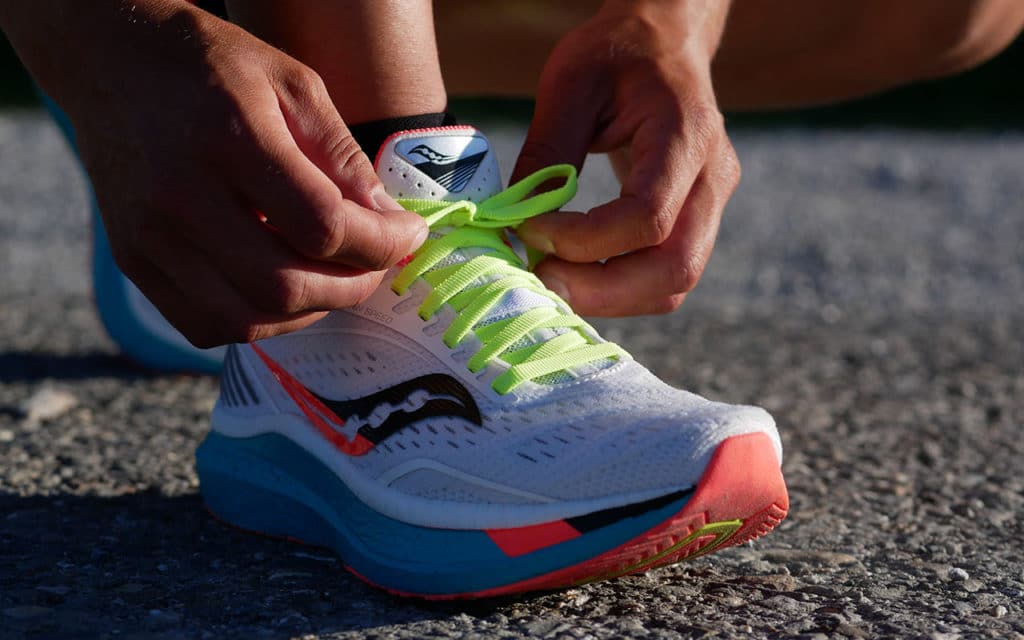 CONCLUSIONS
Not designed for slow runs. They like going fast and that's most definitely where they feel and perform best.
Lovely and lightweight, you barely feel them on your feet.
Pronounced rocker which feels a bit weird standing around, but gives a nice fluid rolling sensation when running. Be prepared for the stride to feel a bit off at first as they're quite rigid.
There is a serious layer of foam between you and the floor, so if you're into a really grounded sensation and like "feeling" the road through your feet, go for something more like a Kinvara or Fastwitch
They can feel a bit unsteady, especially going through tight corners.
There is a clear effect on running dynamics, with increased vertical oscillation and a longer stride; as this will inevitably have repercussions on muscle function it would be interesting to consider their efficiency over Ironman distance when the body is fatigued.
Although they were marginally quicker at threshold, in a straight line, I personally didn't get the massive speed boost I was expecting. Bear in mind however that these are the mid-range Endorphin model with a composite rather than carbon plate, and are probably softer and more forgiving (I haven't tried the carbon plate!). They are clearly designed for a more versatile use, rather than competition-only.
In Saucony's own words, the Endorphin Speed is designed to give "a performance advantage on every run", and after my experience I would tend to agree if you're after that bouncy feel.
On a personal level, I will stick to the Kinvara or Fastwich, simply because I like being "close" to the floor (not that I really need any help on that…) and having a more stable and grounded sensation. And I'm still a firm believer that if you put the work in, you'll fly whatever shoe you're wearing…
I hope this helps if you're considering changing your footwear!
Emma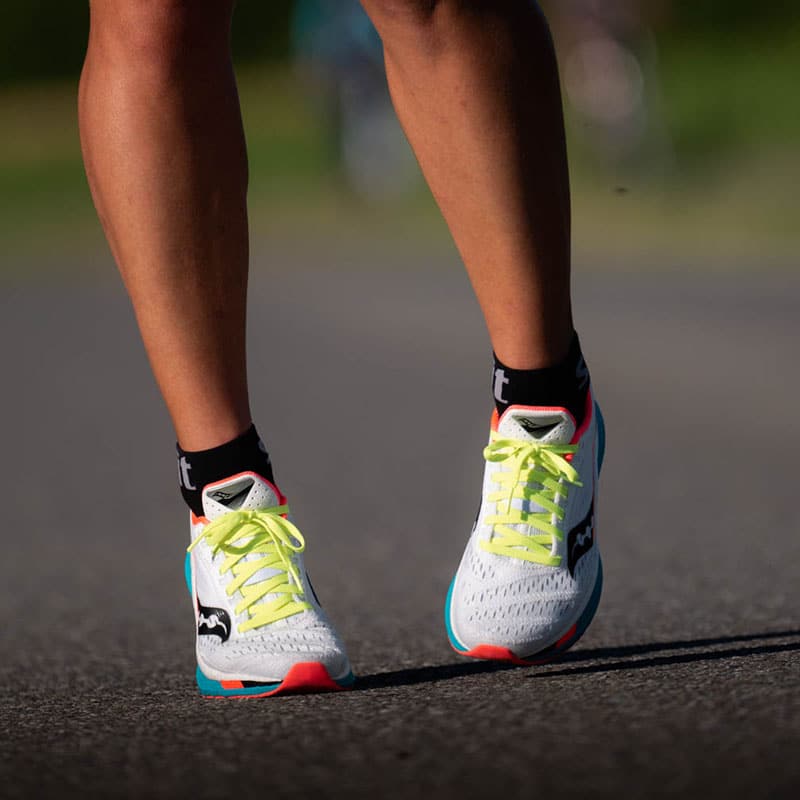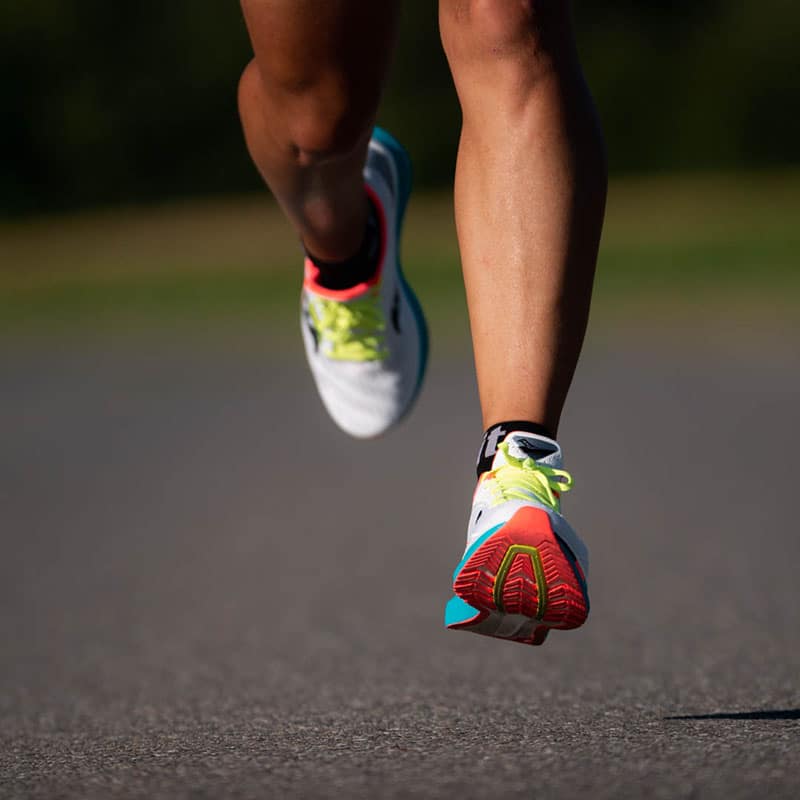 Photo credits © nevis-road.com